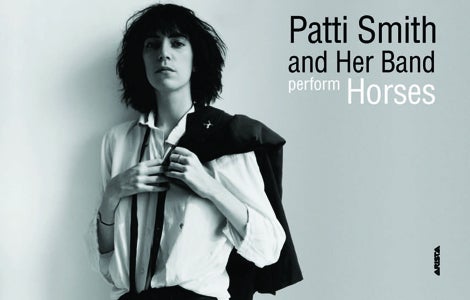 Patti Smith is coming to the State Theatre on March 12! Here's a little more information about her anticipated performance. 

Horses, the landmark recording that continues to have resonance and relevance for today's generations of musicians and artists, will be performed in its entirety by Rock Hall of Fame inductee, Patti Smith. Forty-plus years later, performance poet/visual artist Patti, will be joined by her original band members, Lenny Kaye and Jay Dee Daugherty, plus bassist / keyboardist Tony Shanahan, who has been a part of her band for twenty years. Together they will celebrate the longevity and lasting influence of Horses, with their series of special shows centered around the album.
Known as the "Godmother of Punk", Patti has paved the way for so many other female musicians joining rock and poetry into her songs. The album, Horses, has since been viewed by critics as one of the greatest and most influential albums in the history of the American punk rock movement, as well as one of the greatest albums of all time. This is a musical event that you won't want to miss!
For more information about Patti Smith, click here to listen to the the Fresh Air interview with Terry Gross on NPR about her career and her relationship with photographer Robert Mapplethorpe.
Go see legendary singer-songwriter, Patti Smith and Her Band perform Horses at the State Theatre on Sunday, March 12, 2017 8 p.m. Click here to buy your tickets now!